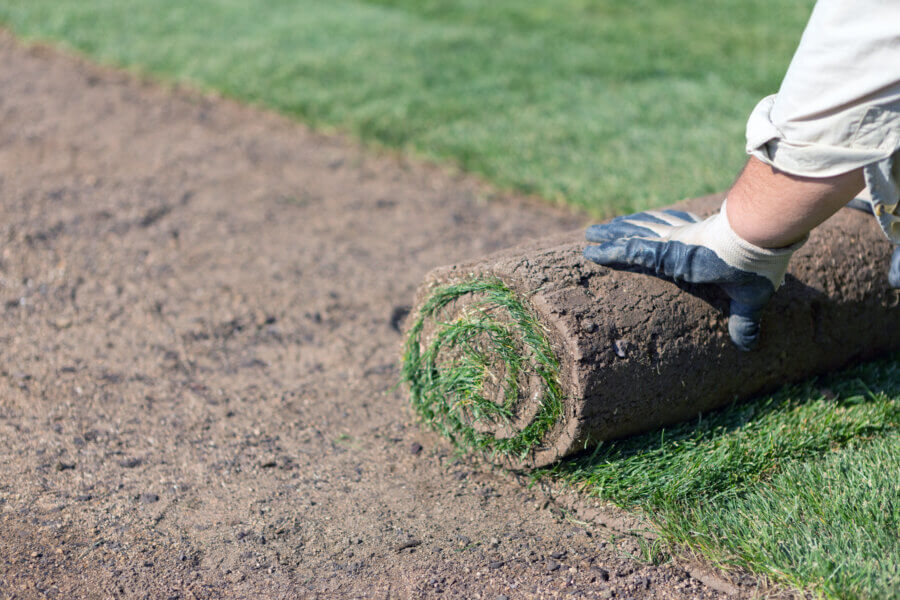 Grass Sod vs. Seeding: Which is the Right Choice for Your Lawn
As a homeowner, you likely want to have your lawn as thick and healthy as possible. Unfortunately, some factors could cause you to have to restart your lawn from scratch or regrow massive sections of it. Poor care and maintenance, pests, and diseases can all force you to start a new lawn. At that point, the question becomes, "grass sod or grass seeding?"
Let's break down the pros and cons of sod and grass so you can determine which option is best for your needs.
What is Grass Sod?
Grass sod is a pre-grown section of lawn that is sold in strips. While it may look fake when it's rolled up, it uses real grass. It holds together because of the thickness of the roots.
Another way to look at grass sod is that it's an "instant lawn." Once you lay the sod down, it looks like a lush, full-grown lawn (because it technically is). While you have to wait for the roots to take hold, you can see how the lawn will look immediately. That's one of the primary benefits of grass sod.
Grass Sod vs. Grass Seed
Grass seeding involves laying down seeds on the dirt and waiting for them to grow into the plant that we all know and love. Unlike sod, the lawn seeding process takes a long time to see results. Typically, you have to wait a whole growing season before your lawn will fill in.
Comparing Sod Installation to Seeding a Lawn
Now that you know what each option is, let's break down the different factors to consider when deciding which route to take for your lawn.
Cost
As a rule, sod is more expensive because it's pre-grown and comes ready to install on your property. By comparison, grass seeds are much cheaper because you have to plant and water them yourself. So, if you're looking to save money when regrowing a new lawn, the price point is one of the main advantages of lawn seeding.
Maintenance
No matter which route you take, you have to maintain your lawn so it stays lush and green and regrows every spring. However, when seeding a lawn, you have to work harder to ensure that the seeds come in evenly and healthy. Also, because it takes so long to see the final results, you may not be aware of a problem until the next season.
That said, it's not hard to add more seeds to any areas that may look patchy or uneven. Yes, you'll still have to wait for the grass to fill in, but you don't have to start from scratch again.
Grass Varieties
Most homeowners don't know what kind of grass they have on their lawns, but the species matters a lot. Some grass varieties are relatively low-maintenance, meaning the blades grow short and thick and don't require mowing.
All St. Augustine sods grow from sprigs, strips of sod, therefore seeds are not available. If you are looking to seed your lawn, your two options would be Rye and Bahia grass.
Project Size
Here is where the difference between grass sod vs. grass seed is most apparent. For sod to take hold, it has to be installed on bare ground. So, if you still have grass on your lawn, you'll have to remove it before you can lay any strips down.
By comparison, you can toss grass seeds wherever you see fit. So, if you have small patches of dead grass, you can toss some seeds and let them take hold naturally. Also, the size of your project will affect the cost. If you're starting a whole new lawn from scratch, sod may be too expensive to work.
Timeline
As a rule, grass sod will take hold after a couple of weeks of watering and fertilizing. Once that happens, you can use and mow the lawn as you see fit. When seeding a lawn, though, it can take an entire season to see results. So, if you're in a rush, sod is the only way to go.
Let Duda Sod Help You Get the Lawn You Want
If you want to buy sod for your Florida home, Duda Sod is the best place to get it. We offer a wide selection of grasses that will make your home look better than ever, all without disrupting the natural Florida habitat. If you're unsure how much sod you need or which species will work best, give us a call! We can walk you through the process and even do a site inspection to see what will look better for your property. Get a better lawn today with Duda Sod.